Summer is underway which means it is time for you to make a road trip to Jellystone of Estes Park! Estes Park is famous for it's views, wildlife and amazing culture. If you have never been to this area of Colorado, it is time for you to experience it. Reading about it and viewing pictures of the wildlife and beautiful scenery is one thing, but when you get to step out of your camp and view what nature has given us, you will be more than thankful.
Camping in Estes Park, CO is more than surreal. When you get here and breathe in the crisp and fresh morning air, you will come to realization of how powerful vacation can be! Not only can getting away relieve stresses you suffer from on a daily and even weekly basis, but it can give you a chance to explore places that you have never been to.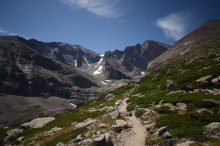 Campsites in Estes can be hard to find. Ours however, is one that you can reserve! We are a top of the line RV park in Northern Colorado that can fulfill all of your destination dreams. We know that many folks come to Estes Park to get away from the busy traffic and people of the city. No matter where you live, we know that when you visit Jellystone of Estes Park, you will be more than thankful.
Our RV park is a family oriented campsite! We have many great activities for you and your family to do together. We have a number of different amenities that not every campsite can provide. If this sounds like a little home away from home that you want to experience this summer, make your RV campsite reservation today.