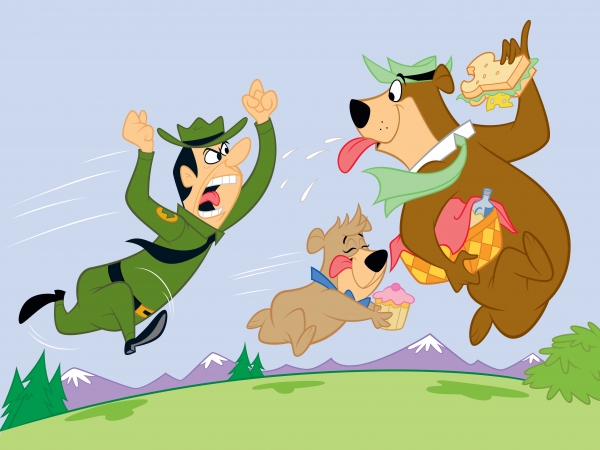 Join in the fun at
Jellystone Park of Estes
You will find fun at Jellystone Park of Estes! We offer a wide range of family activities in the
campground and every weekend has a theme! Daily activities run from June 1st to August 20th.
You can enjoy:
Daily visits with Yogi Bear or Boo Boo Bear
Bingo*
Ceramics*
Fire Truck Rides
Swimming Pool  (open from Memorial Day to Labor Day)
Crafts
Gem Mining*
Horseshoes
9 Hole Mini Golf
Swimming Pool
Laser Tag*
Ga Ga Ball
Jump Pad
Gem Mining*
Arcade*
2 playgrounds
Hiking
Karaoke
Dance Parties
Foam Machine Parties
Outdoor Movie Theater
Saturday mornings join us at the Pic A Nic Basket for fresh homemade donuts from local
Donut Haus Bakery*
Sunday mornings preorder your cinnamon rolls from local Cinnamons Bakery for
Sunday morning pick up a the Pic A Nic Basket*. Orders must be placed by 4:30pm on
Saturday.
Visit our Theme Weekends Page for more information on Themed Weekends.
All activities, entertainment and scheduled events are subject to change due to unforeseen
circumstances an/or local requirements during COVID 19. Wristbands are required while on
property and in order to participate in park activities and use of facilities/amenities.